Guru is excited to announce that Public Cards are here to solve all of your problems—ok, maybe not all of them, but definitely a few key ones. We have some ideas for how you and your team can best leverage Public Cards, including: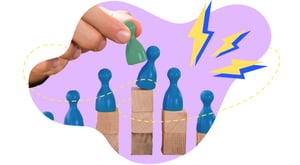 What is a Public Card?
A Public Card is a Guru Card that can be accessed with a link alone, no login needed. This setting can be enabled by Guru admins, Collection owners, and original Card authors on Cards they'd like to share with people outside of their Guru instance (think business partners, customers, and everyone in between). As long as you have the link to the Card, you can access all of the game-changing information that lives within it. Public Cards have many of the features of traditional Guru Cards that you and your team love, like bite-sized knowledge, and expert-backed verification, while giving you the ability to share beyond your team or company.
Here are some of our favorite things to replace with Public Cards:
Reference Lists
Sometimes, you have a really awesome list that you want to share with the world, your colleagues, or your friends. But what happens when that list is constantly changing, and you want to make sure your readers have the most up-to-date information possible? Enter Public Cards. Keeping your list in a public Card allows you to send out one link that always has the most accurate information—making it a living, breathing reference for your readers.
💡Pro Tip: When sharing Cards like these, make sure to explain that they are dynamic and updated often! That's the beauty of a Guru Card.
Post-Webinar/Event Follow-Up Emails
Event follow-ups and webinar recaps are a great way to share valuable knowledge with attendees and registrants, and in many cases, sales development representatives (SDRs) will email follow-ups to continue the conversation. Instead of just a link to a blog post recap or webinar recording, try sending out a post-event summary Card that includes additional resources and ways to keep learning.
💡Pro Tip: Summarizing content in a Public Card can help your audience better understand what they can expect to learn, and why watching the webinar or reading the blog post is a worthwhile time investment!
Best Practice Lists
From hiring a great team to finding the perfect venue for the holiday party—you and your team are, without a doubt, experts at something. Share your best practices with your networks with a Public Card to let them know that the knowledge is backed by the experts they trust and want to learn from. Plus, they can then share it with their networks too!
💡Pro Tip: These Cards are great to share out on your LinkedIn or Twitter profile—we recommend suggesting that your followers bookmark them for easy access!
Company-Wide Announcement Emails
No matter how much time you spend crafting the perfect message to your team, sometimes company-wide emails get glossed over or worse, ignored. Give your team the bite-sized knowledge they need more efficiently with a company newsletter Public Card (we call ours The Knewsletter). We especially like the ability to link back to previous newsletters within the Card, as it provides an easy ongoing point of reference for the team!
💡Pro Tip: This works great for companies where only specific teams have access to Guru, or particular Collections within Guru.
Industry Group Emails
Industry peer groups often communicate via their own Slack workspace, giving members and admins easy access to communicate with each other and the entire group. While this facilitates easy 1-1 conversations, for larger group updates, like weekly newsletters, try using a Public Card to organize content in a more digestible way.
💡Pro Tip: While newsletter emails are often jam-packed with helpful knowledge, they can quickly get buried in a busy inbox, or worse, sent to junk mail. Posting a Public Card link in Slack can help overcome email fatigue and get your audience reading!
That's just the start! We're sure you'll think of even more creative ways to use Public Cards to share your knowledge with your team, your friends, and beyond.