We're officially introducing Guru's new free user role: Light users. This user role makes it easy for Guru's Enterprise customers to get their entire company on the same page and into the same knowledge base.
There are a lot of stressors in our world, but keeping up with your company's information shouldn't be one. Hybrid workplace employees are drowning in internal communications and real-time updates that are meant to keep everyone in the loop as we work asynchronously but end up feeling like information overload. When all this information lives in different systems—Google Docs, your HRIS, project management tools, or your dated intranet, among others—it becomes even more difficult to digest and act on.
Knowledge silos like these force employees to spend far too much time and energy searching for the latest information, all while trying to keep up with the average day's inevitable deluge of GIFs and workplace convos. This sense of information overload (you know the feeling) is a key contributor to employee burnout and disengagement.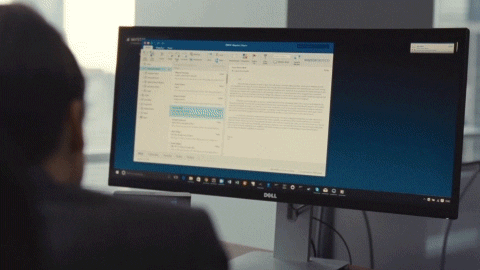 Creating a single source of truth for your entire company is the first step to simplifying information overload and combating employee burnout. But it can be difficult to execute on when it requires getting every department to commit time and money to onboard a new solution. That's where Guru's new Light user role fits in.
The pain of not having a single source of truth
Now, none of us are trying to overload and overwhelm our teams with information. We're working in a hybrid work world with SO. MUCH. info that needs to be communicated. Between trying to keep people up to date on your workplace strategy, and trying to foster a sense of culture and community virtually, leaders are pushing more information to employees than ever before.
Here's the hurdle: when each team has a different system to house their information and each type of communication lives in a different place, information is scattered. And I know that departments buy all these different solutions in an effort to solve the exact comms problems I'm referring to, but having a disparate source of knowledge for each team just makes it more challenging for everyone to know where to look and what to trust. Your employees are burnt out from searching for answers in multiple places, your SMEs are burnt out from providing the same answers over and over again, and all of this noise makes it harder for your leadership team to communicate across the organization.
This is where employee burnout starts to burn you; when employees don't have easy access to the information they need to do their jobs, it's a top predictor of poor employee engagement. And when employees are disengaged, they are more likely to leave your company. 74% of actively disengaged employees were searching for new jobs in March 2021. All this disengagement is expensive: it costs $9,000 a year to keep each disengaged worker and between $25,000 and $100,000 to replace them. If your company's internal comms mismanagement is bringing down employees' quality of life, they'll find a new company that has it figured out.
How to eliminate knowledge silos
You might not be able to limit the volume of content your teams send out, but you can provide consistency and predictability by uniting your company's information into a single source of truth. When employees unequivocally know where to go to find any answer without having to leave their workflows, it makes the constant influx of information less daunting. Save employees' time from searching for answers in disparate sources, and save your company from death by SaaS application by creating a one-stop-shop for company-wide knowledge.
"This sounds great, but getting my entire company into one tool sounds like an expensive headache," you may be thinking, and normally you'd be right! Two of the biggest barriers we see to eliminating knowledge silos and information overload are budget and bandwidth: various departments are already using disparate information repositories and the barriers to convince them to try yet another one seem high. Knowledge bases like Guru are most successful at streamlining internal communications when every employee has access, but achieving stakeholder buy-in and budget across every department can feel next to impossible for one team—or worse, one person—to accomplish.
The Light user role steps in as an accessible way to share knowledge in Guru with as many teammates as you want—without the headache.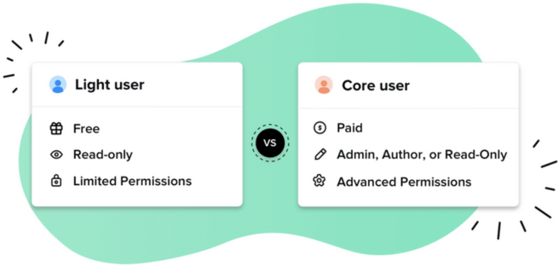 Light users are here to help
A Light user is a free tier for employees who need access to general company knowledge available on Guru's Enterprise plans. Forget having to convince everyone upfront to use a new knowledge solution; once you have a core team creating company-wide info in Guru, you can simply start sharing your knowledge with the rest of your organization for free via Light users. Interested? Learn more about our plan options, or chat with our team to see if Enterprise is right for you.
Light users have limited functionality and can only view the kinds of information that you make available to all Guru users, such as workplace strategy, objectives and key results (OKRs), and benefits information. Think of the Light user role as a general admission ticket to a concert: They can see the same show as everyone else, but they get none of the benefits of having higher access levels, like box seats, backstage passes, or actually being in the band. On the flip side, paid Core seats in Guru enjoy the full suite of Guru capabilities and maximize the potential of knowledge management. Core users are backstage, collaborating and jamming on content; Light users are standing room only, just enjoying the show.
Whether Core or Light, all Guru users benefit from having access to a single source of truth wherever they're already working: in the browser, within Slack or Microsoft Teams, and anywhere else. The goal of inviting Light users is to open up your knowledge base for free and let it scale organically based on every team member's knowledge needs and experience. It sounds pretty great, right?
"We were so excited about the launch of Light users! Everyone on the Support team is a content creator, but not everyone on other teams would be creating content in Guru. We still really wanted a way to share all the knowledge we have with everyone, and the Light User role is exactly what we needed. It allowed us to add all our customer-facing teams; now we're working together with HR to roll Guru out to the entire company."

—Anastasia Rybalko, Support Knowledge and Operations at AppFollow
Get Guru and solve internal comms woes for your entire company
Providing a wall-to-wall knowledge management solution that every employee has access to is an important first step in satisfying and retaining employees. Enterprise ready? Connect with our team and be on your way to adding all of your teammates to Guru for free–let your expertly-documented knowledge speak for itself.