Implementing change at work can be...challenging to say the least. Whether you're up against a change-resistant culture or struggling to create buy-in, having the right tools and documentation can do a lot to help your change management efforts.
Are you having trouble finding the right template for your plans? You're on the right track if you're looking for templates and documentation you can use, but you shouldn't stop at just one.
A comprehensive change management plan involves several different components that will need their own attention.
We're going to give you everything you need to create the best change management strategy possible.
We weren't kidding when we said that this is going to be an expert's guide to change management. Keep reading to learn why you need a change management plan and what should be in it, and get plenty of free change management plan templates and Guru Cards to help you along the way.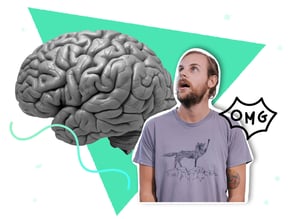 Change management process terminology
Before we dive into the meat of our post, let's talk a bit about terms. If you want to excel at change management and make a solid case for your proposed changes, you'll need to learn the lingo. Here are some terms you'll want to make sure you understand: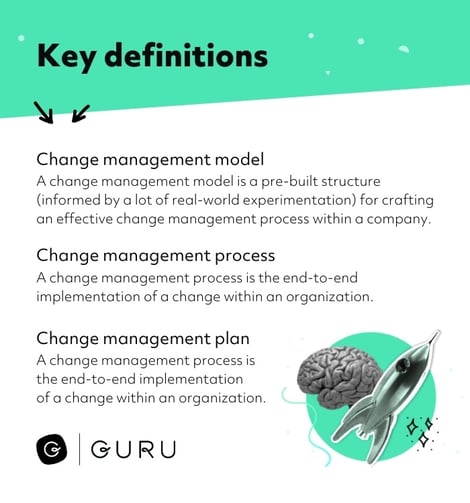 Why you need a change management plan
In order for an organizational change to happen successfully, a lot of things need to come together. You'll need buy-in from leadership, help from other teams, and a reasonable timetable to get everything done.
Your change management plan will be the primary tool you use to help manage the entire process. A well-written plan can help give you insight into your budget, schedule, communication, workflow, overall scope, and available resources.
When you have a well-thought-out plan, you can help minimize and account for the impact your proposed change could have. It's essential to keep in mind that any change has the potential to disrupt work. Instead of trying to do everything at once, a change management strategy can allow you to roll out smaller, incremental changes that can still get you to your end goal without causing a lot of friction.
Having a formal, written plan also gives you room to take an agile approach to change management. When you're in the planning phase, everything you're doing can seem perfect, but eventually, all of your plans move from being idealized to real. When you have a change management plan in place, you can make pivots and adjustments as they're needed.
How do you write a change management plan?
Every change management plan may be unique, but they still contain some critical basic elements. When you're putting your plan together, remember to keep these essential things in mind.
Demonstrate the need for change
Don't assume that everyone knows that things need to change (even if you think it's incredibly obvious). Some people may think that things are running perfectly fine as is, and others may not be involved enough to understand why you're pushing so hard to make a change.
When you demonstrate your need for change, you'll give your key stakeholders a clear understanding of why they need to invest time/money/people power into what you're proposing.
This makes it easier to create buy-in and lessen resistance to change.
Dive deep into any data you can find to support your proposed change, whether that comes from internal sources or external ones (it's even better if you can find both). Think about what motivates your stakeholders the most and find data points that appeal to them to make your case even more robust.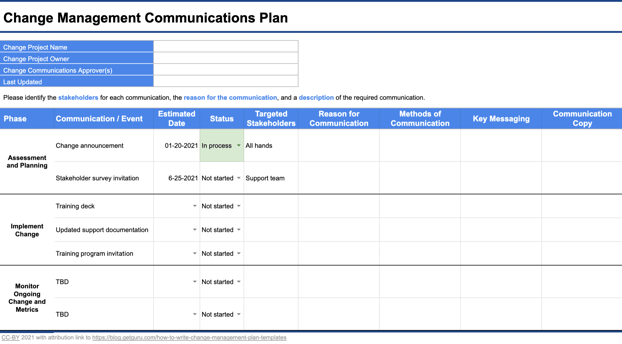 Clearly state the benefits your change can bring to the organization. Plans and proposals that you can tie back to overall company goals can be a hit with the powers that be.
Understand your scope
When most people think about project scope, they consider how much time everything will take. While it is important to think about a reasonable timeline for your project, that's just the baseline of what it needs to be.
It's very rare for things only to affect one individual or even one team or department.
Everything you do is interconnected at work, so other people's needs should be considered in the change management process.
Take time to think about what will be affected by your proposed changes.
Are you having trouble determining your scope? Ask yourself these questions:
Which teams and individuals will be affected the most by my proposed changes?
What policies will be affected by my changes?
Will job roles need to change to make my change as effective as possible?
Do changes to organizational structure need to be considered?

Identify key people
It's difficult (if not impossible) for one single person to enact change at work. You're going to need plenty of help if you want to see your plans come to fruition, and most of that will come from your stakeholders and your change management team.
Remember: stakeholders and team members are two very different things.
Your stakeholders can be very invested in the outcome of your project. They might be investors, C-level employees, or managers, but they won't be doing much, if any, of the work. Your change management team members will be the people handling a lot of what needs to be done to make changes happen.
When you're thinking of your team members, don't just think about people that are going to be doing production work. Consider starting a change advisory board responsible for overseeing work and offering approvals and guidance when needed.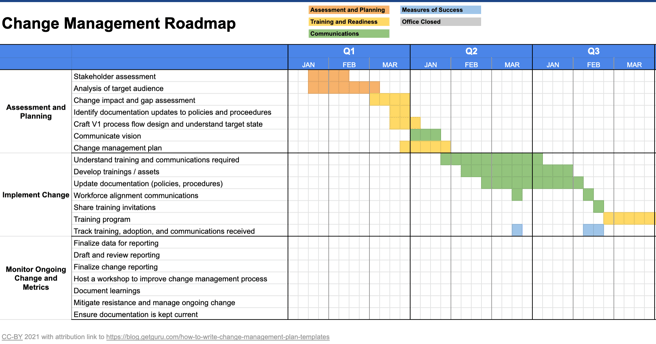 Determine budgets and milestones
It's estimated that around 70% of changes fail because people either don't believe that the effort is worth it or think that things are working. One of the easiest ways to avoid falling into this trap is to outline very clear milestones and budgets.
We understand that change can't come from thin air.
Whether you're investing money, time, or work from other people, make sure you make a realistic budget for it all. A good budget should have a little wiggle room to ensure that things can still run smoothly in case you need to make future changes.
Milestones can be viewed as minor checkpoints on your change journey, but if you want to get the most out of them, treat each one like a bit of check-in. An upcoming milestone is a great time to re-evaluate your plans and make sure things are still working for your team.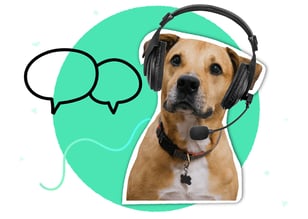 Set your communication plan
Clear and consistent communication is the key to any change management plan. When you take a strategic approach to communications, you're doing a lot to keep people focused and foster a sense of trust. You aren't working in the dark or trying to hide your progress; you're striving to be visible and accessible every step of the way.
Create opportunities for people to ask questions and be clear about what information you can share and what needs to wait for a later date. Set a positive tone for conversations, and don't be afraid to tackle difficult questions. Even if you run into trouble or have to re-evaluate your plans, being open and honest about what's going on can help keep support.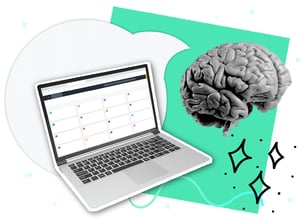 What does every change management plan need to succeed?
Every change management plan has a series of smaller components, and the right documentation plays a crucial role in keeping everything together. If you're ready to bring your plans to life, we can give you some insight into what you need to include and even provide some templates to help you along the way.
Change management communications plan
If you want your change management plan to go off without a hitch, you're going to need to create buy-in from key stakeholders at your company. This is where a change management communications plan comes in handy.
Change management roadmap
Timing is everything when you're creating a change management plan. Plotting out a timeline helps keep your team on track to meet certain milestones and also helps set expectations around your pace of work.
Clear change management roles
Defining roles is a must in effective change management. Giving out roles helps add structure to your work and helps ensure that the most important work on your project is getting done.
Who is going to handle updating documentation around the work you're doing? Do you have a designated designer or developer on this project? Who is going to keep communication flowing with stakeholders?
Are you having trouble delegating roles? Sometimes it doesn't have to be up to you. Feel free to open it up to team members to see if anyone wants to take on a task.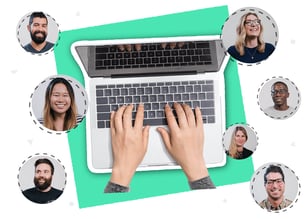 Change control board
It's time to think about the main people that will be steering the project. Remember, you may have a large group of people working on your project, but you're going to need one "decider" for certain tasks. They'll be in charge of any changes and decisions that deviate from your original plan.
Defined change management process
Now that you have a clear idea of what you want to achieve and insight into your team and board, you can finally dive into the process. This is where you will clearly outline what needs to happen to make your change move forward. This is one of the most important parts of the change management work, and luckily for you, we have a guide that can help. Learn more about defining a change management process.
Change management tools
There's nothing wrong with having various tools in your tech stack when you're deep in the change management process. You just need to make sure that everyone is clear on the tools you will be using.
You can't have your lead designer working in Figma when most people in production are still in Adobe. Ensure everyone is aligned on the right tools to use before you dive too deep into your change management work.
Change management analysis plan
Your excellent change management plan has been executed, and now you need to see if you made the right changes. This is where your change management analysis plan will come in. Determine what metrics you'll measure to determine success and outline what goals you need to hit.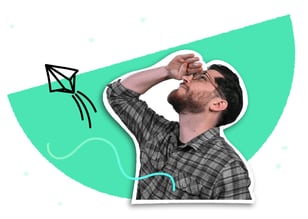 Additional change management resources
We just mentioned some absolute must-haves for change management plans. We've given you what you need to enact change, but depending on your company's maturity and industry, you may need a little more help.
If you want to cross all of your T's and dot your I's, you may want to consider adding these docs to your overall change management plan:
Change management training plan
There's a difference between knowing that a change is coming and being ready to deal with the change. Take the guesswork out of whatever changes you've made and give people clear direction on how to move forward.
Change management resources template
What do I need to do if I need to make a change in the new process?
How do I make sure I'm using everything the right way?
Give people the answers they need to questions before they even need to ask them with a resource guide. Include additional helpful documentation, necessary directions, and information on whom to contact if they need more help.
Change request form
Do you need to make changes to a certain process? Does someone on a different team have an amazing suggestion for new processes? Have people submit a change request form so their suggestions stay on your radar.
Change orders log
Don't let changes get made in the dark or without context. A proper change management log can show you important work your team has already done to enact change and can give you insight into why certain changes were made.
Want an easy way to access all of the free templates in this post? View everything in one handy card!