A dynamic, emotionally-intelligent brand can be a competitive differentiator, but only if your internal teams know how to use it correctly. In order to execute a brand effectively, employees need a playbook on how to talk about it; how and when to use certain visual aspects of your brand; and most importantly, the wrong way to use it. That playbook usually takes the form of a brand book or guidelines document. At Guru, we have a 40-page brand book. The goal is to empower our revenue team to use our brand to deliver exceptional experiences to everyone they engage with.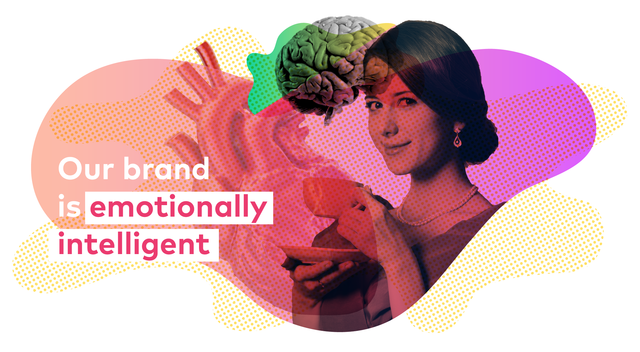 Why brand guidelines?
A brand is more than just a logo and some colors. It's also all the intangible elements that make up your company's identity. It's a comprehensive experience that adapts to different situations and contexts while remaining reliably consistent. That's an impossible balance to achieve without clear guidelines to govern every aspect of the brand.
"Authentic brands don't emerge from marketing cubicles or advertising agencies. They emanate from everything the company does." — Howard Schultz, Starbucks
The most important outcome of a brand guidelines document is ensuring consistency. Everyone who interacts with a brand at any touchpoint – it doesn't matter if it's through a salesperson, a tweet, or a marketing email – should have a consistent experience. If the same brand sounds very corporate and buttoned up in a webinar, but has a funky product or a quirky sense of humor on social, consumers are going to be confused and put off by the inconsistency.
Similarly, if a brand looks polished and sleek on its website or in design assets but sloppy and slapdash in pitch decks or materials made by non-designers, audiences will question the reliability of that brand.
We have an opportunity to connect – emotionally – with our users and prospects. We can stand out in the marketplace and make people fall in love with who we are and what we do. Every interaction that someone has with Guru should be consistent. (And consistently awesome.) From our pitches to our product we aim to deliver a memorable experience that will win business and create lifelong advocates. — Guru brand guidelines
Beyond consistency, the ultimate goal of our brand guidelines at Guru is to give employees permission to be themselves. We're humans first, so it's important to us on the design team as stewards of the Guru brand to empower all employees to represent our brand authentically in a way that feels natural to them. By giving them guidelines to operate under, they can calibrate the Guru brand to their individual personalities.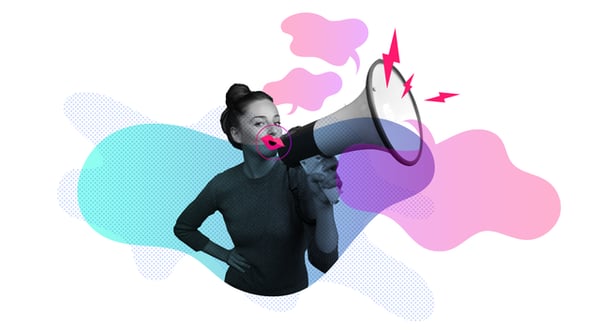 However, if you don't teach people how to use the brand appropriately, you risk unleashing unbecoming manifestations of your brand into the market. You can tell people that your brand is "funny," but what does that really mean? Sense of humor varies wildly from person to person – one man's LMAO is another man's WTF. Employees need to understand how to apply certain aspects of your brand personality so as not to get themselves or your company into hot water over an insensitive remark. In that sense, brand guidelines can be part of an insurance policy that helps your employees represent your company respectfully. It's important to outline the good, the bad, and the ugly, so everyone is on the same page about how to leverage your brand in market.
To empower our revenue team to best represent the Guru brand in everything they do, our brand guidelines defines the voice, tone, look, and feel of our brand and gives clear instructions on how to use the various assets available. Here's how we approached creating our guidelines:
Defining the Guru brand
The first step in producing our brand guidelines was defining every aspect of the Guru brand. We kicked off the process with an executive team offsite to really dig into what makes Guru Guru. We went through a number of exercises: Pick five words that describe how Guru should look; pick five words that describe how Guru should feel; pick five words that describe how Guru shouldn't look; pick five words that describe how Guru shouldn't feel. If Guru was a car, what would we be? Something safe and reliable like a Camry or something innovative and flashy like a Tesla? If Guru was a shoe, what would we be? A classic black flat or a pair of beat up Converse?
We took all the words people suggested and looked for common threads: We should look empowering, personable, and authentic; we shouldn't look robot-y, complex, or bland. We should feel intelligent, lighthearted, and understanding; we shouldn't feel complicated, immature, or too serious.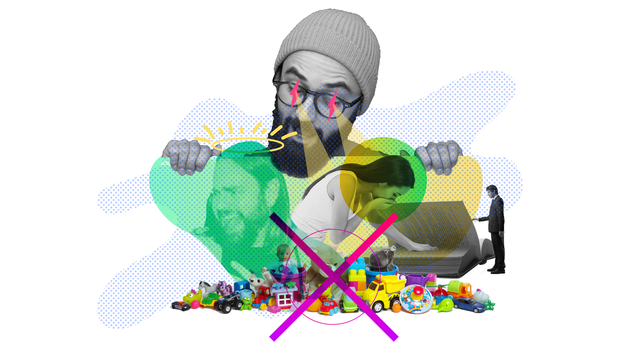 The most important takeaway from the branding offsite was that we should think about our brand as a person. A person who is emotionally intelligent and adapts to different situations; a person who is assertive but not arrogant, witty but not crass, empowering but not overpowering.
With these traits in mind, we began the daunting exciting task of designing a comprehensive branding booklet.
The book of brand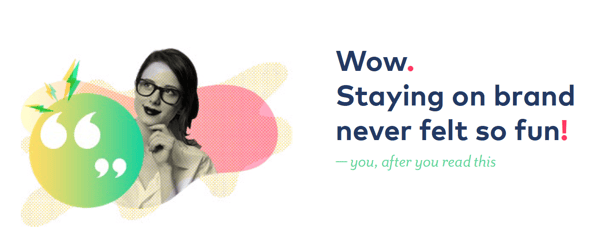 We broke the brand guidelines into four main sections: Voice & Tone, Look & Feel, Emotional Intelligence, and Usage. Every section includes a 'This! Not that' breakdown for absolute clarity around best practices and real life examples of good branding.
Voice & Tone
Our brand has one voice. From tweets to pitches, from associates to the leadership team, we sound unique and recognizable. Whether our users are reading or listening, we make their takeaway clear and consistent – and, where possible, we do it in a way that puts a smile on their faces. The 'This! Not that' section stipulates how our voice and tone changes based on the situation. It's important to establish boundaries so that people have the freedom to speak naturally without having to adhere to a strict script or approved word list.
Look & Feel
Our brand is not about beating people over the head with our logo. We see every ask as an opportunity to create something that serves a purpose and is beautiful and different. We're the neon in a sea of tech-company-blue. We don't look like other companies, we know that and (say it with me) that's a GOOD THING. – Guru brand guidelines
The 'This! Not that' section under Look & Feel instructs readers on how to achieve the playful look Guru embodies without bordering on immature. One of the most important aspects of determining our look and feel is putting humans at the forefront of our brand, and this section explains the importance behind that decision. Guru's product aims to empower humans to do their jobs better with AI, rather than replacing them with machine learning and chatbots. To echo this sentiment in our branding, we use real human photography, and where we can, our own employees. It's important that our brand ambassadors keep that in mind when choosing visual components.
Emotional Intelligence
Our brand adapts and reacts just like a good person. Just because we're a casual, fun-loving brand doesn't mean we show up to enterprise sales meetings in crusty footwear. – Guru brand guidelines
To demonstrate how a dynamic brand exhibits emotional intelligence, we developed a slider system. Depending on the situation, we indicate on a scale how our brand should behave. A sales deck will naturally have a different look and feel from a blog post. It's important to make sure employees understand how to tailor your brand to the situation, and examples always help drive this point home.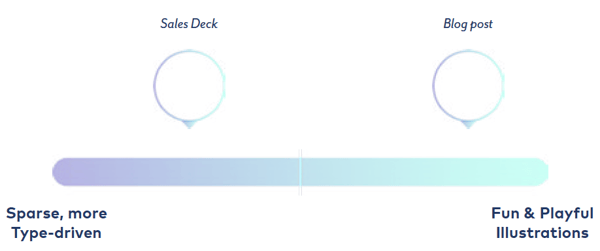 Usage
A brand is only as strong as the people using it. The final section of the Guru brand guidelines tells people how to use various aspects of our brand. This includes logo dos and don'ts, color theory, typography, icons and imagery, slide deck best practices, our media kit, and more. It hurts designers' souls to see our assets used incorrectly – especially when the perpetrator is an employee. It's important to outline how various visual assets should be used to make sure you're always putting your best, most aesthetically-pleasing foot forward.
How brand guidelines empower revenue teams
The point of a brand guidelines is to give employees a framework with which to craft the conversations they're having with anyone outside of the company. It is not to stifle individuality or to give designers an excuse to shame people who stray off brand. (We don't need an excuse to do that. JK.)
Brand guidelines are meant to empower all employees, but particularly external-facing employees on the revenue team, to have better interactions with prospects and customers. The better equipped teams are to speak about your brand using the right words to get the right sentiment across, the more polished and legitimate your brand will come across. It's a way to help all employees be the best possible ambassadors of your brand.
So much of a company's success boils down to how well it can tell its brand story. That story and the brand behind it is what consumers buy into. Giving your team all the tools necessary to tell that story in as compelling a manner as possible sets them up for success.
We use Guru (duh) to power the brand experience
It's one thing to instruct the revenue team to refer to the brand guidelines when they're emailing customers and prospects, but it's another thing entirely when you can actually empower them to access the guidelines wherever they work. At Guru, we house all of our brand assets and guidelines in Guru, which makes them accessible via the browser extension, web app, and over Slack.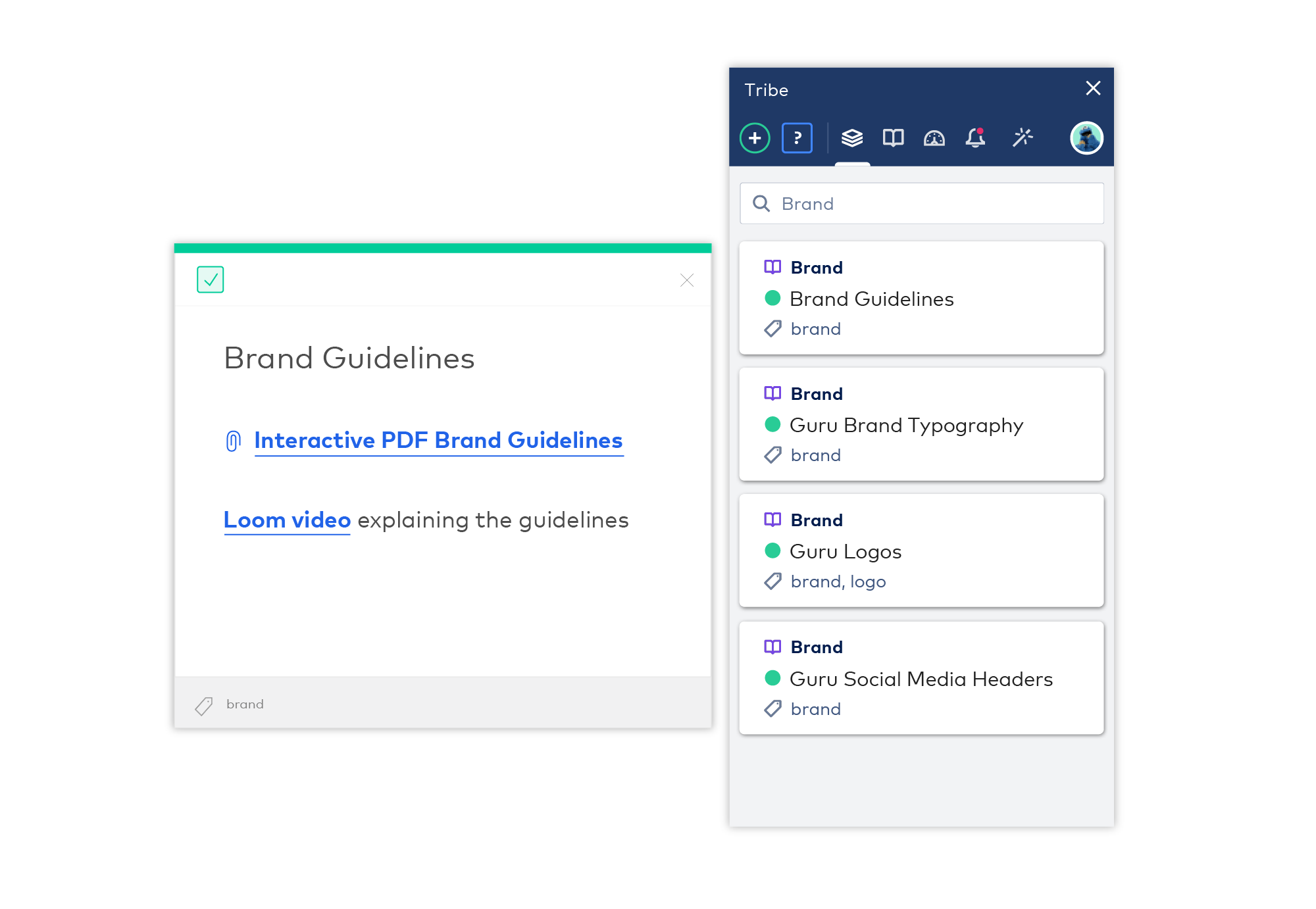 Reps can leverage brand assets anywhere they work, which helps us ensure consistency and adoption of our branding. With everything available in one place in Guru, there's no incessant searching for collateral, pestering the brand team for the latest assets, or confusion around how to use certain elements of our brand. We rest easy knowing that not only have we given our revenue team a dynamic brand to leverage, but that we've given them the means to wield that brand effectively.
By empowering employees to create better pitch decks, craft more concise emails, and share wittier social posts, you help them make a lasting impact on whoever they engage with that ultimately helps your company establish market share and drive revenue. Painting a clear picture of who your brand is will allow employees to implement it and keep it top of mind in everything they do.
If you're interested in creating your own brand guidelines, you can check out Guru's full booklet here. This is just one example of the types of knowledge your brand team can supply to empower revenue teams to have better conversations and represent your brand as best they can.