Is it just us or did fall appear out of thin, crisp air this year? There's been an uptick in pumpkin-flavored cookies and red coffee cups (sans gingerbread lattes) around our office lately, which can only mean that we are in the thick of Instagram's favorite season. And as traveling home starts to become an every-other-week affair, we at Guru HQ are also returning to our roots with our Fall Launch.
Jump to each feature:
Knowledge management as a category has been around for over 30 years. In 1998, The Gartner Group was credited with establishing the go-to definition of the category:
"Knowledge management is a discipline that promotes an integrated approach to identifying, capturing, evaluating, retrieving, and sharing all of an enterprise's information assets."
But here's the thing — a lot has changed since 1998. Back then, the value in KM was in the storing of knowledge; not in the using of it. As cloud storage has gotten cheaper, and as we've transitioned from desktop apps to SaaS applications, it's no longer enough to simply manage your organization's knowledge. The real value in knowledge lies in harnessing it, sharing it, and using it.
---
Give Guru a whirl.
It's completely free to start.
---
Guru launched as a new way to solve this very old problem. Our mission was simple, but powerful: the knowledge you need to do your job should find you. As we continue on our journey of reinventing knowledge sharing, we're realizing more and more that addressing these challenges isn't about software at all; it's about people.
Today, we're excited to make the world's highest rated Knowledge Management product even better with our Fall Launch. Now, it's easier than ever to capture knowledge shared across your organization, and deliver it to your teams in all of the places they work — all in real time.
People, Not Portals: Guru's Browser Extension Works Where You Do
Guru launched in 2015 as a Chrome extension to help revenue and customer service teams have easy access to all of their company's information the moment they need it by congregating relevant "cards" of information written by different internal teams. Since its launch, Guru has extended its offering to include a web app, Slack bot, and AI-driven recommendations.
"A messy, hectic computer screen makes it so hard to focus on the things you need to get done. And when you're on the phone trying to make an impression on a sale — being organized can make or break a call. The new extension "hide mode" and tabbing makes it so much easier to keep our reps focused on their sale rather than digging around for information they had up two seconds ago!"

— Charles Derupe, Sales Tools and Content Manager at Square
Today, Guru has gone back to our roots to ensure the best experience in the browser possible. Some of these enhancements include:
Guru Cards can now be opened in a tabbed form to reduce the screen real estate that multiple Cards take up.

The extension can be minimized with Cards left open to reduce the space taken up on the user's page.

Favorites are now much more prominent on the initial dashboard for easy access to critical knowledge.

The UI has been enhanced and simplified to make suggestions easier to use.
Check it out here:
Card Templates
Consistency can be a real challenge for knowledge managers who are trying to make knowledge as easily accessible as possible. Creating knowledge in a uniform and easily digestible format becomes even harder as more team members become content creators. And, we all know how paralyzing a blank page (Card) can be, meaning most folks won't bother to contribute at all.
Now, Guru Collection Owners can create content templates so that users can select from existing templates when creating a Card and follow the pre-populated, proposed formatting and organization (Tags, Boards, Verifier, etc).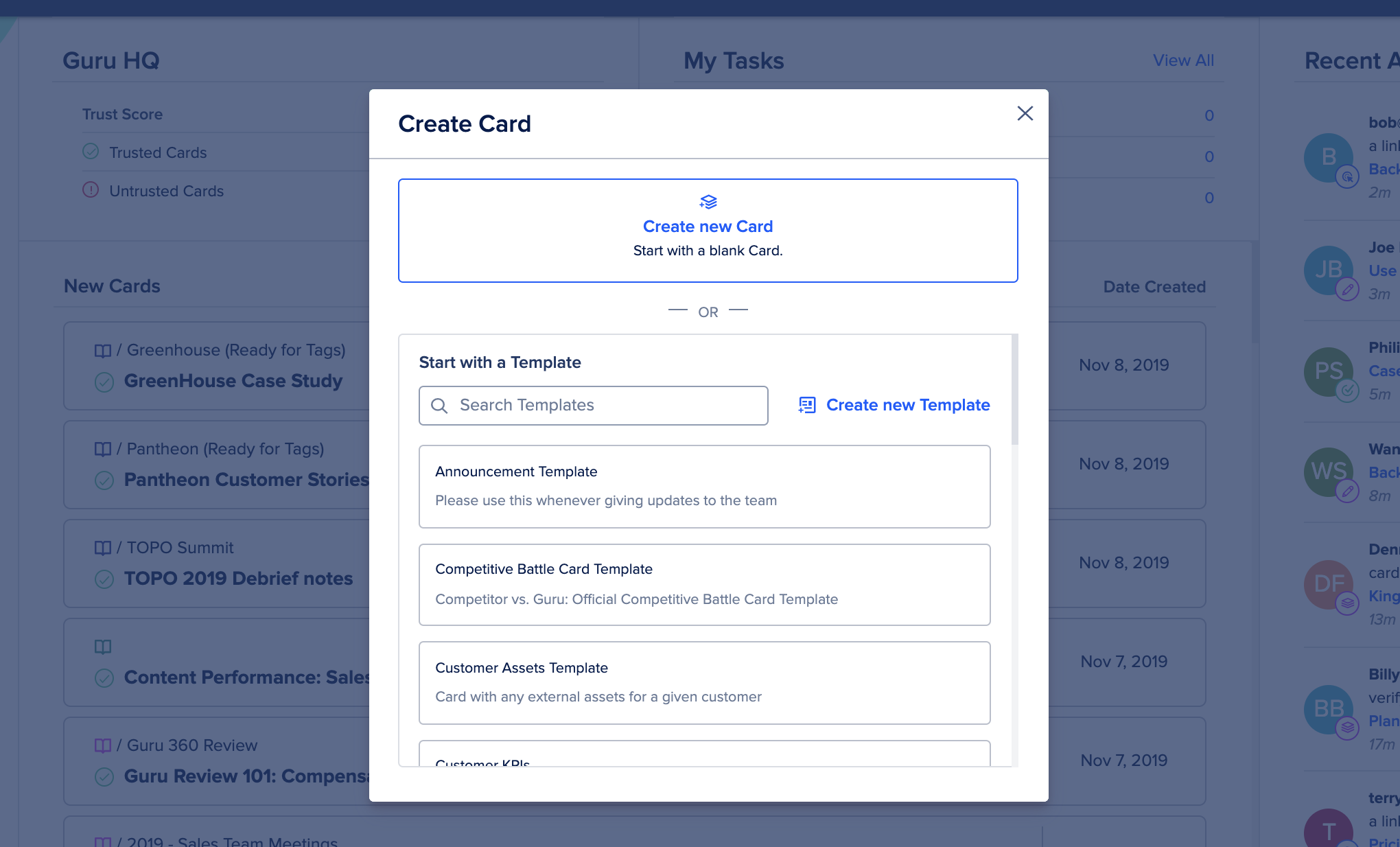 "As our team scales, it's essential that our Cards are consistent in formatting. Templates will help make the process of gathering multiple contributor content efficient without sacrificing card readability for our users. Saves me hours going back and forth trying to teach contributors how to make high-quality Cards!"

— Charles Derupe, Sales Tools and Content Manager at Square
Templates make it easier to create knowledge and help your users more quickly consume content as they know exactly where to find the knowledge they need on the Card.
"Templates will allow for efficiency when creating new cards. Our team does well with cards that have structure, since it allows them to know exactly where to look. The templates will help keep our knowledge organized and easy to digest."

— Mariah Carraway, Patient Care Specialist at hims & hers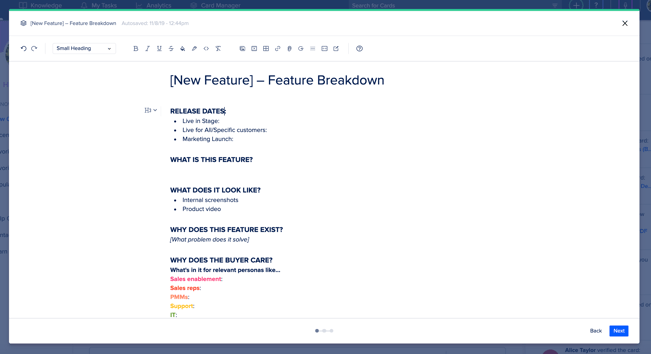 "Our customer support team LOVES to create content in Guru, but keeping a consistent style guide and content structure has been tough. Being able to create standard templates they can use to create Cards in the moment helps us scale the process of contributing to our ever growing Guru collection. An added bonus is that I don't have to edit Cards to look pretty now, the templates do it for me!"

— Megan Daly, Senior Support Specialist at Envoy
More Granular Reporting on Salesforce Activity
Sales teams rely on Guru while progressing opportunities down the funnel. Traditionally, Guru has helped teams visualize the knowledge and content that has been sent to prospects, but we were missing a critical lens into the customer journey. Specifically, visualizing the internal knowledge leveraged across existing opportunities.
Our new Views Over Salesforce feature gives teams the ability to track all of the knowledge that was utilized by a sales rep over the course of an opportunity in Salesforce. Check out the video below to see how it works:
In this example, we can see that a sales rep viewed a Card called Demo Prep Template on top of an open opportunity in Salesforce. That Card view over Salesforce is then captured and reflected in Guru. This information is helpful for sales enablement and sales ops leaders to understand all the knowledge reps leverage to close a deal, beyond just external-facing assets. Fellow sales reps can view and learn from which knowledge their peers are using and when.
With Views Over Salesforce, everyone can understand the types of knowledge that are used at each stage of an opportunity: process knowledge in Discovery, marketing knowledge in Validating Business Case, etc. Sales enablement leaders and product marketers can also use this functionality to find the balance between the internal-facing knowledge they create (messaging and positioning, competitive intel, etc.) and the external-facing knowledge they create (one sheets, case studies, etc.) at each stage of an opportunity to inform content strategies.
Salesforce Opportunity Component & Event Integration
Because most sales teams live within Salesforce, we have also made it easier to consume information from Guru directly in Salesforce. With our new Opportunity Component Embed Widget, Guru can display content that has historically performed well when sent at a given opportunity stage in Salesforce. Here's what it looks like:
This feature suggests content based on its sent-to-click ratio at a particular stage, which provides an element of contextual coaching without any of the heavy lifting. Sales reps can see which content has been sent by their peers and well received by prospects at certain stages, and plan their own content strategies accordingly.
Download Guru's
Salesforce Opportunity Component Embed Widget
through the Salesforce App Exchange
Salesforce users can also now see Guru Content Performance activity right in Salesforce, alongside other activities like emails and phone calls. Previously, when sending a tracked link to a prospect via Content Performance, users had to view engagement in Guru or in Slack, so we've moved that information into Salesforce. Check it out below:
To leverage Guru's Content Performance Event Integration, contact your CSM or support@getguru.com to have it enabled in your account.
Mobile App
The knowledge you need to do your job should find you when and where you need it, including on your Android device. Following the release of our iOS Mobile App, we are pleased to share a new Guru app for Android. The app makes it easier than ever for users to search for and consume knowledge on the go. Download the app from the Google Play store.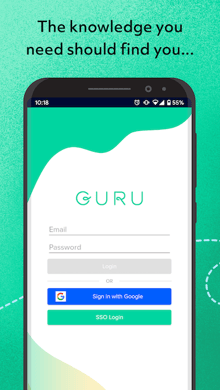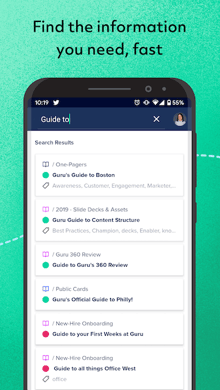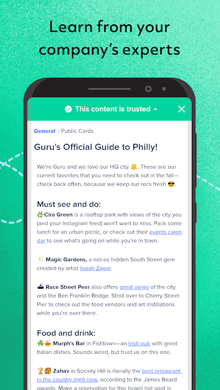 Slack Updates
We built our Slack bot in 2016 to easily allow you to capture, search, and distribute knowledge directly in the app. We've recently designed a better — and more beautiful — end-to-end Guru Slack experience. Some of these upgrades include:
The ability to show images in Cards.

Opening Cards in the modal allows us to show images in Slack while maintaining the viewing permissions of images.

A familiar product experience.

Because of the way Cards display, the Guru experience in Slack matches the experience of viewing a card in the Guru web app and browser extension.

A better ability to track which users are viewing Cards in Slack.

Opening a card in a modal allows Guru to precisely track which users are viewing which cards in Slack, giving you more accurate analytics in Guru.

A significant reduction in the noisiness of Guru in Slack channels.

Say goodbye to that large blob of text in the middle of the window; now users get the information they need (title, collection, tags, etc) without crowding the channel.

Users are now able to filter search results based on more than just the search phrase

. You can now adjust search terms and filter the results by Collections and Tags.
Here's a glimpse at the sleeker functionality:
Public Cards
We've seen that our customers use Guru to organize all kinds of valuable knowledge, and in many cases, that knowledge is important for both internal and external audiences. Traditionally, Guru users would copy information from a Card and convert it into another format (email, chat message, etc.) to share with people outside of their team.
Public Cards provide their audience with a different type of knowledge: trusted and verified by the experts and companies they care about.Some common use cases for public cards include:
See Public Cards in action:
What's Next
We're committed to continuing to reimagine what knowledge sharing can mean for teams around the world — built around the people who need knowledge rather than the portals that house that knowledge. In a world of SaaS app proliferation and noise, we believe that the knowledge you need to do your job, when and where you need it most. Looking ahead to future launches, here are some of the projects you can expect to see:
Updates to our Public Cards feature

Extending Guru's verification workflow beyond knowledge stored in Guru

A more flexible way to manage Board Permissions

A deeper integration with the Microsoft ecosystem